Cut from Mohawk Beckett Cambric in Blazer Blue/White. Stitch-effect edge and rounded corners.
ModMyi is an Apple news site with community forums and downloads. Kyle contacted me about creating cards to bring to the upcoming Apple developer conference in San Francisco.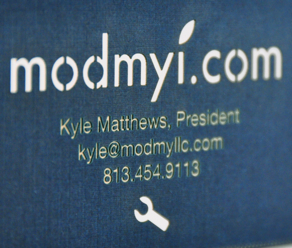 Using a vector file of their logo I created five design choices and tested a couple of duplex blue papers. The thicker 130lb paper with its delicate linen texture was a clear winner. Why duplex? For my own cards I've used a wide range of papers. I found that the dark papers were frustrating because I had nowhere to write. With a dark/light duplex the problem is solved by having the back of the card to write on.
After a lot of testing I found the precise setting so that the laser would burn away just the blue layer of the paper, leaving the white to give high contrast for the text. Unfortunately this paper is relatively smokey; I had to clean the lens of the laser between each sheet to maintain the optimal power.
The duplex engraving isn't as legible as printed text but it's a very unique look. Additionally, there are no plates to make, no ink to use, and no nasty chemicals to clean up the ink.
To complete the project I designed a custom box to match the cards. (I'm eyeing a copy of The Packaging and Design Templates Sourcebook to make this process faster.)
Additional photos are over in my flickr photostream. You too can own a swanky set of laser-cut business cards if you just email to get the ball rolling.